Human error may be to blame for Bavaria rail collision
Comments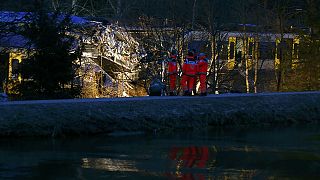 Human error is at the centre of an investigation into a train crash that killed 10 people in southern Germany.
At least 80 others were injured when two trains collieded head-on at high speed in the Bavarian countryside.
An investigation is under way – state-owned Deutsche Bahn which is responsible for the track have said the signaling system had recently been checked leading to speculation of human error.
Company
CEO
Christian Schreyer expressed his shock at the accident: "None of us could have ever imagined that such a dramatic disaster could have happened. I mean, rail travel is the safest method of transportation that there is. We do all the emergency exercises, our people are trained, but nonetheless you can never be prepared for such a day.
In the nearby town of Bad Aibling residents attended a church service to say prayers for those affected.
The trains had been carrying about 100 passengers, mainly commuters. Police said more people would have been travelling if it had not been a holiday week.