Zuma's legal battle latest stumble in error-filled second term
Comments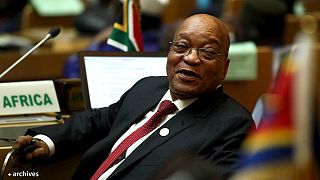 South African President Jacob Zuma's legal headache is just the latest problem he has been backed into. His critics say that in the past this has been the moment when he has backed down.
However there may be no exit route for Zuma this time. His leadership is under attack from within the party as well as the opposition, and Tuesday's protest shows the ANC needs to beware of the radical left Economic Freedom Fighters, led by former ANC youth leader Julius Manema.
Beyond the scandal of using public money to tart up his personal residence, Nkandla, a "vital security upgrade" that included a paddock and amphitheatre, Zuma's
judgement is being questioned on a number of issues as the economy declines.
In May 2014, Jacob Zuma won a second term but the wildly popular anti-apartheid prisoner of 10 years got into trouble shortly afterwards, and the errors have kept on coming. Zuma is now a frequent laughing stock for his announcements, and his party, the ANC, is seeing its dominance slide.
Accused of rape, embezzlement and nepotism before becoming president, he dodged the bullets, but now seems vulnerable. His grip on power appears weaker, and recession means fewer resources which he can marshal to buy support.
South Africa is a society of paradoxes where inequalities stop you in your tracks. It is Africa's second-richest country, the world's 34th, but 39% of the population lives in poverty, and 25% of the active population is out of work. Add those who have given up
looking and the figure is 40%.
Economic forecasts are modest, with only 1.1% growth predicted for 2017.
Voter disillusionment, the lack of a viable opposition candidate, and the institutionalised power of the ANC, the only party ever to hold power in majority-rule South Africa, got Zuma re-elected. But some do not care about Zuma's burnished reputation.
'Hey we love Mandela, we love Oliver Tambo, but you guys, the ones who are remaining, you're not anything close to those people and we're going to teach you a lesson so that you go back to what O.R. Tambo represented,' said Malena in parliament recently.
Now Zuma has an opponent of stature with a growing reputation who could ignite the ANC grassroots with his rhetoric and steal them away come election time. While the ANC's grip on power appears safe for now, if they continue to bleed support Zuma may well have to carry the can.