S Africa: rally planned as Zuma court hearings begin
Comments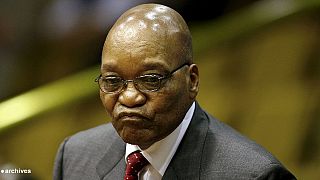 Thousands of South Africans are expected to march in Johannesburg on Tuesday as court hearings begin over President Jacob Zuma's use of public money.
ConCourt hearing on Nkandla pivotal moment for justice' says DA https://t.co/42cENfxTPSpic.twitter.com/6SWI4m7Agr

— The Daily Dispatch (@Dispatch_DD) February 8, 2016
He has been under fire from opponents and the media over a 250 million rand (15 million dollar) upgrade to his rural home – and had told parliament he did not owe the state a refund for any of it.
Zuma last week said he would foot part of the bill, but that was not placating his critics.
Economic Freedom Fighters (EFF) party spokesman, Mbuyiseni Ndlozi, said: "We are expecting thousands of people to come to the demonstration tomorrow (Tuesday).
"The police will be there to help us and protect our rights to the freedom of assembly and to demonstrate against corruption and cronyism in the country.
The controversial 2013 security upgrade at Zuma's residence in Nkandla included the building of a swimming pool, a cattle enclosure and an amphitheatre.