Normal life in East Ukraine waits on demining efforts
Comments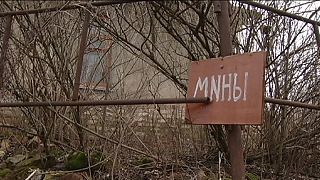 Wednesday is the first anniversary of the Minsk agreement that was supposed to end the crisis between Ukraine and Russia. Mapping and clearing the minefields on the frontline is part of the deal. In the village of Syze people feel under siege.
"Mine contamination is another huge problem of this area. For instance, this village is completely surrounded by mines," says euronews' Sergio Cantone.
Mines stop the farmers from working their fields, and agriculture is virtually the only work around here, so until the mines are gone normal life cannot resume.
Foreign NGOs can help, but only Ukrainian forces are allowed to actually demine. Some of the minefields are part of their defence system. One DanishNGO says 730 civilians have been killed by mines and unexploded munitions. And with the frontline so close, there is still sporadic shelling and sniper fire. The mines were laid in haste with no maps. Fortunately the locals know where they are.
"You can walk only on the paths not to the right, not to the left, not in the forest and not in the fields…We need our money not to go to Kyiv, but to the regions, such as Lviv, Donetsk, Luhansk. It's not ony about Donetsk and Luhansk it is also about the whole of Ukraine," says Alexander, a strong supporter of the federalisation of Ukraine.
The UNHCR is also here distributing aid to the last 13 villagers who have decided to brave out the crisis and stay put. They need warm clothes, food, and fuel, and are grateful for the efforts made by the Danes and British, Swiss and French demining charities.
"How much time has passed after WWII and we still find mines. So I don't think that most of landmines will be removed in a short period of time. My opinion is that they will keep finding them for quite a long time," said a Ukrainian military nurse.
Now that heavy regular fighting has died down serious demining work can begin, but it is a risky business. Some of the munitions are decades old, some are new and contain no metal so are hard to find. And as the bomb experts say, "it's the ones you don't find that you need to find the most".