Taiwan quake: baby rescued 30 hours after building collapses, scores still inside
Comments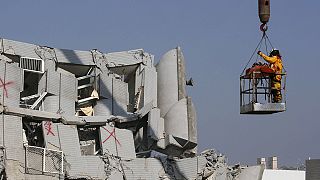 Rescue teams were continuing to search on Sunday evening for around 120 people believed to still be trapped inside a collapsed apartment block in the southern Taiwanese city of Tainan.
A six-month-old baby girl was brought to safety after being trapped for more than 30 hours, following a 6.4 magnitude earthquake on Saturday morning that brought down the building.
The lower floors of the 17-storey Wei-guan Golden Dragon Building pancaked on top of each other and then the whole structure toppled.
Rescuers have pulled more than 240 survivors from the ruins.
Liu Shih-chung, Tainan city government deputy secretary general, said television footage of the collapsed building suggested the possibility of structural problems related to poor-quality reinforced steel and cement.
However, city officials said it was too early to say for certain whether poor construction was a factor in the collapse.
At least 23 people have been confirmed dead due to the quake, including 16 found in the Wei-guan Golden Dragon Building.