Taiwan quake: young man pulled alive from rubble, as survivor search continues
Comments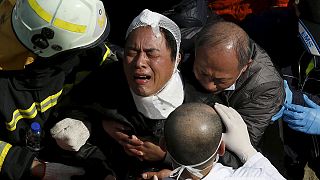 More than 24 hours after a deadly earthquake hit Taiwan, a young man has been pulled alive from a toppled, high-rise apartment block.
The 20-year-old is one of the lucky ones.
Rescuers are still searching for more than 130 other people, believed trapped in the rubble in Tainan.
"On the ninth floor of the B building, we've found a man. Right now we're in the midst of digging through the debris. He was buried by the wall when it collapsed," said Xie Genzhou, search and rescue team captain.
"We've already broken up the wall, and we're digging in two areas."
Taiwan rescue efforts focus on the collapsed, 17-story building https://t.co/LVSIO4OMaq

— Wall Street Journal (@WSJ) February 7, 2016
Most of the dead have been found in the collapsed apartment block. The building's lower floors pancaked on top of each other and then the whole structure came down.
Earthquake survivors in Taiwan were still being pulled to safety Saturday afternoon https://t.co/uFKqPhHHOFpic.twitter.com/tP8hI7mhco

— New York Times World (@nytimesworld) February 6, 2016
"We have two apartments on the sixth and eighth floor, that means they are in the deeper parts of the debris. Our rescue schedule will be slower than others, it can't be fast;" said Yue Qing-Sheng, who is waiting for news on the missing.
Dozens of relatives have gathered where emergency teams are working in Tainan, clinging to the hope that their loved ones will also be brought out of the rubble alive.