One of world's biggest container ships stranded on German river
Comments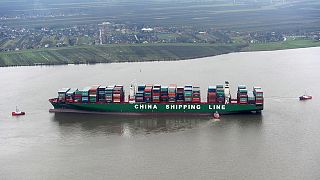 Crews are attempting to pump hundreds of cubic metres of heavy fuel oil from one of the world's biggest container ships.
The CSCL Indian Ocean is stranded on the Elbe River in Germany after running aground while approaching the port of Hamburg.
A further attempt to refloat the vessel will only be made once the necessary fuel is removed, German authorities say. The Central Command for Maritime Emergencies said this may not occur until the morning of February 9.