One dead after crane collapses in New York City
Comments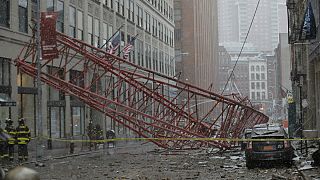 One person has died and two are seriously injured after a huge crane collapsed in New York, say the city's fire department.
It came crashing down in Worth Street, crushing several parked cars.
It is unclear why the crane fell, but reports say it was snowing quite heavily at the time.
Social media
.NYPDChiefofDept</a>, <a href="https://twitter.com/FDNY">FDNY & nycoem</a> survey crane collapse in Lower Manhattan with Mayor <a href="https://twitter.com/BilldeBlasio">BilldeBlasiopic.twitter.com/lgbqAY9vif

—

NYPD

NEWS

(@NYPDnews) February 5, 2016
#FDNY on scene of crane collapse at Worth St/W Bdwy in #Tribeca. 1 fatality, 2 serious, 1 minor. Photo cred nycoem</a> <a href="https://t.co/39AlbeGbI1">pic.twitter.com/39AlbeGbI1</a></p>&mdash; FDNY (FDNY) February 5, 2016
#FDNY on scene of crane collapse at Worth St & W Bdwy in Manhattan. 1 fatality confirmed, 2 patients serious pic.twitter.com/5bHeI1Ba7x

—

FDNY

(@FDNY) February 5, 2016
1 killed, others injured after crane falls on cars in NY. https://t.co/7r5l7QHHn2pic.twitter.com/7JUQCUhqMU

—

FOX

13

NOW

(@fox13now) February 5, 2016
Crane collapse kills one, injures many in Financial District in NY. Weather ruled out as a cause. 23ABCNews</a> <a href="https://t.co/wmL3Kv6MVk">pic.twitter.com/wmL3Kv6MVk</a></p>&mdash; Cassie (Cassie23ABC) February 5, 2016