Japanese volcano erupts on nuclear power station island
Comments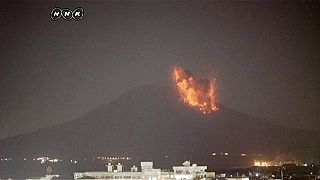 A Japanese volcanic eruption has fired ash nearly 2km into the sky and sent molten lava flowing down its slopes.
The Sakurajima volcano lies 50 km from the Sendai nuclear plant but the authorities said there was no risk.
The facility reopened this year after a shutdown following the earthquake which crippled the Fukushima reactor.
People were warned not to approach the volcano, which lies in a remote area.