Fresh fears about Zika virus after three deaths in Colombia
Comments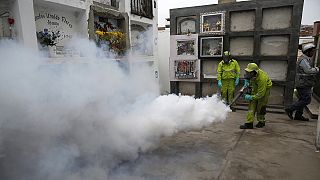 Three people with the Zika virus have died in Colombia, after developing a rare nerve disorder.
Colombia's health minister believes there could be a causal connection between Zika and Guillan-Barre (gillan barray) Syndrome – a rare, but serious condition that can cause paralysis.
First Zika-linked deaths reported in Colombia

Details: https://t.co/P0EOizUpz7pic.twitter.com/1RZq4ONgAf

— JamaicaObserver (@JamaicaObserver) February 5, 2016
Colombia's health minister believes there could be a causal connection.
"We had reports of three deaths related to Guillain-Barre. The three patients had Zika. That is where there is concern," said Alejandro Gaviria.
Colombia sees spike in debilitating syndrome thought to be related to Zika https://t.co/oajNZNYFChpic.twitter.com/1MPGX7vJMp

— Pierre Taylor (@newspeepers) January 28, 2016
It comes as Brazilian scientists revealed they had detected the mosquito-borne Zika virus in urine and saliva for the first time.
It is not known whether Zika can be transmitted through these body fluids.
Brazil has declared war on the mosquito, deploying task forces to clean up breeding grounds.
Commenting on the action, Brazilian President Dilma Rousseff said: "On the 13th of February, we're going to involve 220,000 members of the armed forces, as well as state health workers, community health workers and epidemiologists."
Zika concerns began to grow after Brazil reported thousands of cases of a serious birth defect, that may be linked to infection during pregnancy.
The virus has spread across the Americas. Countries such as Ireland and Australia have reported cases of travellers testing positive after returning from infected areas.