Davutoglu promises 'rose garden' in Turkey's Kurdish south-east
Comments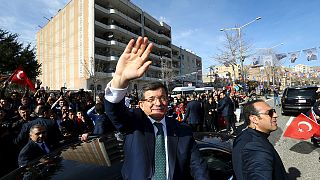 Turkey's prime minister has travelled to the mainly Kurdish south-east of the country after weeks of an anti-PKK operation that has left some areas badly damaged.
Ahmet Davutoglu said Ankara would pay to repair everything smashed up in the fighting and compensation for those who has suffered losses. Turkey would make the region a "rose garden", he promised, but woe betide those who resisted the state.
"ISIL exploits the feelings of pious Sunnis while the PKK exploits the Kurds and the DHKP-C expoits Alevis. We will establish public order. Whoever threatens that, for whatever reason will absolutely be stopped and prevented, whether they are like ISIL, the PKK or the outlawed far left DHKP-C, they are all executing terror," said Davutoglu in the city of Mardin.
The bill for regional reconstruction is likely to be hundreds of millions of euros and locals have heard promises from Ankara before, and have learned how much salt to take with such announcements. The military operation is continuing, although the curfew has been lifted in some areas.