Car bomb kills three at Mogadishu airport
Comments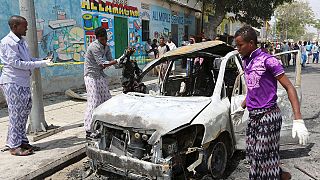 Three people have died at Mogadishu airport in a suicide bombing just days after an explosion ripped through a Somali airliner, forcing it to make an emergency landing.
The car bomb set off a massive explosion, and appeared to have targeted an airport official who was one of the victims.
Airport security was tightened this week following the attack on the Daallo Airlines Airbus A321. Investigators now believe an explosive device may have been hidden in a wheelchair used by one of the passengers.
More tests are needed to confirm the presence of explosives. Many disabled passengers are seen in flights in and around war zones, and are often waved through checks.
Islamic militants al-Shabaab claimed responsibility for the airliner attack, but the car bombing has not been claimed.