Polakow makes big waves in Portugal
Comments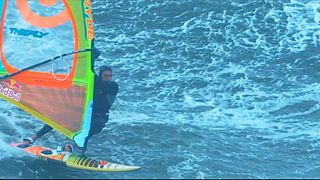 Australian Jason Polakow became the first person to windsurf the big waves in Nazare, Portugal this week.
Polakow studied the spot, which is 120 kilometres north of Lisbon, for more than a year before riding the 13-metre waves at Praia do Norte.
The two-times wave-sailing world champion said it was the greatest moment in his career although he is expected to return to beat the world record of 18 metres set in Hawaii.