NBA champions meet President Obama
Comments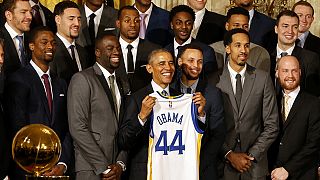 Last season's NBA champions The Golden State Warriors followed up their win over the Washington Wizards with a visit to the White House on Thursday, with MVP Stephen Curry and company meeting with President Obama to celebrate their 2015 title.
With the entire team setting the backdrop behind him, Obama said: "Folks are saying they are revolutionizing basketball. They are so good, they seem to be just breaking the game itself. And I don't play anymore but I still know a little but about basketball, and this really is one of the best teams we've ever seen."
Obama later received a Golden State shirt with the number 44 in honour of the 44th President of the United States.
But another number that would have been talked about at the White house was 51 – the ridiculous number of points Curry scored in his side's victory against the Wizards the night before.