Diplomatic failure as UN suspends Syrian peace talks
Comments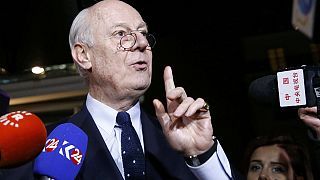 The UN has suspended peace talks aimed at ending Syria's five-year civil war.
#theguardiannews Faltering UN Syria peace talks paused until end of February https://t.co/JWEXmFC4Wh

— Jack Miller (@jackmiller192) February 3, 2016
Special envoy Staffan de Mistura made the announcement citing a lack of progress as the reason to postpone the talks until February 25.
Despite the suspension de Mistura insisted the Geneva talks had not failed,
"This is not the end and it's not the failure of the talks. Why? They came and they stayed. Not only. But both side insisted on the fact that they are all interested in having the political process started. The whole matter is, again: 'Are we here in order to have another Geneva conference without any results for the Syrian people, or are we serious about what we've been saying?."
The Syria peace talks look doomed. https://t.co/JvFi3OVy84pic.twitter.com/1EcpKYdqeS

— Slate (@Slate) February 3, 2016
The talks looked doomed from the start with the Syrian opposition refusing to speak directly to the Syrian government and the Syrian government unaware of the makeup of the opposition team or the agenda.
#Syria opposition: we leave #Geneva tomorrow. We will not return here until there is tangible progress on the ground pic.twitter.com/YkflkA9IRi

— Reza Afshar (@RezaMac) February 3, 2016
To add to the gloom the Syrian government has announced it may not even attend the rescheduled peace talks.
US estimates of civilian casualties from airstrikes in #Syria, #Iraq are "wildly inaccurate" https://t.co/uiWPsv9sDppic.twitter.com/YmiLJ4hzyV

— carrollbogert (@carrollbogert) February 2, 2016
More than 250,000 people have been killed in almost five years of conflict and eleven million have been forced to leave their homes.