Syria peace talks key to stemming Europe's migrant crisis, says Turkish PM
Comments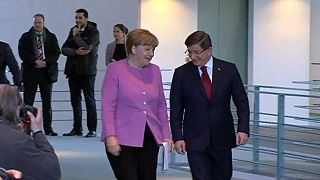 German Chancellor Angela Merkel has hosted Turkish Prime Minister Ahmet Davutoglu in Berlin for the first intergovernmental talks, with the migrant crisis topping the agenda.
Merkel said she wants a crackdown on smugglers, who bring people into Europe.
"We cannot allow – and here we (Turkey and Germany) agree, that illegal human traffickers and smugglers have the power on the sea between Turkey and Greece," she told reporters.
Davutoglu said Turkey stands shoulder to shoulder with Germany and highlighted the importance of Syria peace talks in cutting migrant flows.
"As Turkey and Germany, we see the peace talks aimed at ending the war in Syria, which start next week… as a key element in stemming the flow of refugees to Europe," he said.
Outside the Chancellery, there was a not so welcoming reception for the Turkish prime minister. Around a hundred protesters made their feelings clear, demonstrating against him and his government.
Merkel is under popular pressure to cap migrant arrivals that last year reached 1.1 million, which has reduced her popularity and fuelled support for an anti-immigration populist party.
She wants to stem the influx by improving conditions at Syrian refugee camps in Lebanon and Jordan, giving Turkey aid in exchange for the smugglers' crackdown and distributing refugees across the EU based on a quota system.
Turkey, which shares a border with Syria, has kept an open border to refugees from Syria's civil war and is now home to more than 2.2 million, the world's largest refugee population.