Cruz crushes Trump but Sanders catches Clinton in Iowa caucus
Comments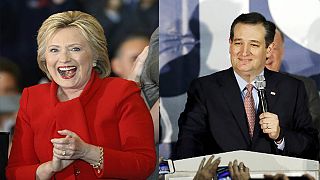 They both emerged winners from the first contest of the US 2016 presidentials, even though this was only a caucus and not even a primary, but only Ted Cruz will be celebrating.
That is because Hillary Clinton only won by a wafer-thin margin against Bernie Sanders, and he is likely to stalk her hard from now on.
The big loser by far was Republican interloper Donald Trump, who came within a whisker of trailing third after Marco Rubio made a strong showing. The poll frontrunner is likely to do better in New Hampshire, but this was a bubble-pricking moment for the great showman.
Clinton's problems will only get worse in New Hampshire, a proper primary, and where Sanders is popular and in the lead. Voters here see his record in neighbouring Vermont, and they like it.
So close was the Clinton-Sanders faceoff a coin toss had to decide certain precincts, as dead heats could not be decided any other way.
It hardly seemed credible barely six months ago, but Bernie Sander's self-avowed "democratic socialism" is winning over the under 40s in droves, while Clinton is failing to ignite passions among the young. The last time passion overturned experience a certain Barack Obama made it to the White House.
REPUBLICANS
DEMOCRATS