Time is running out for stricken freighter as it drifts towards French coast
Comments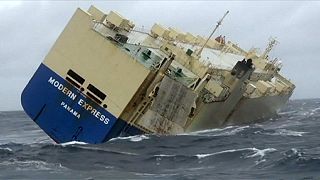 A final salvage effort is to be made today to try and tow a stricken cargo ship which is drifting on its side off the French Atlantic coast.
Previous attempts to board the "Modern Express" in order to attach a cable have failed due to the extreme incline of the vessel and difficult sea conditions.
Stricken ship heading for French coast: A stricken cargo ship is heading towards the French coast, maritime au… https://t.co/Lv27XJZWVN

— Biblioteca

EDSJ

PR (@YaritzaCruzRive) January 31, 2016
If it fails, the head of France's Atlantic coast authority, Emmanuel de Oliviera, said it will run aground off the French coast.
"If the towing doesn't work today , the Modern Express will hit sandbanks off France's Landes department between Monday night and Tuesday night."
High winds and rough seas ruled out towing operations on Sunday, after the failure of a previous attempts this week in which a member of the salvage team was injured.
The ship is carrying 3,600 tonnes of wood along with construction machinery bound for France from Gabon. It also has 300 tonnes of oil in its fuel tanks which so far are not leaking.
The crew was evacuated by helicopter last week after its thought the cargo shifted in heavy seas causing the ship to list heavily on one side.
It's thought the ship will be towed to a Spanish port which has facilities to deal with potential pollutants from stricken vessels.