François Hollande pardons Sauvage and reignites domestic violence debate
Comments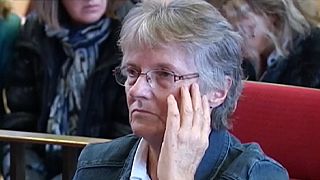 French President François Hollande once said granting pardons was not his conception of a modern presidency, and he has done so only once before, for France's longest-serving prisoner in 2014.
But he has been swift to act in the case of Jacqueline Sauvage, just hours after meeting with her family, pardoning the battered wife who killed her husband after years of violence, and repeated rape of both her and their daughters.
"I'll give her a very strong hug and tell her that`s it, we got there, you`re not going to live alone now, the 47 years of suffering you had, you`ll be happy with us, with your children and grandchildren," said daughter Carole Marot.
Sauvage's case became a cause celebre in France after being found guilty of murder in 2012 and given 10 years.
She lost her last appeal in December, prompting the request for a pardon. More than 400,000 people signed a petition for her release.
France updated its conjugal violence laws in 2010, and has followed that with regular advertising campaigns.