At least 20 killed in Kabul suicide bomb attack
Comments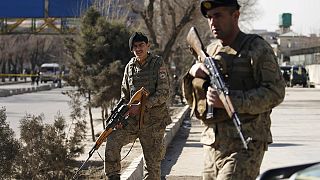 At least 20 people have been killed and around 30 wounded after a suicide bomber blew himself up in the Afghan capital Kabul, according to the country's Interior Ministry.
The attacker had joined a queue to enter a police office, in the crowded Dehmazang district, west of the city.
The Taliban has claimed responsibility for the attack, the worst of its kind so far this year. In a statement, it claims that 40 police officers were killed or injured.
Last month, Kabul was hit by a series of suicide attacks as the Taliban stepped up their campaign against the Western-backed government.
The violence coincided with renewed efforts to revive a peace process with the Islamist insurgent movement, which stalled last year.