US election: Tight race in final countdown to Iowa caucuses
Comments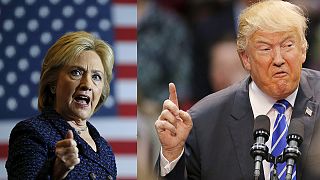 In the run-up to Monday's Iowa caucuses, White House hopeful Hillary Clinton has a lead of just three percentage points according to an influential last-minute poll.
The Des Moines Register/Bloomberg Politics Iowa poll released on Saturday indicated a tight Democratic and Republican race.
Democrat Clinton was only just ahead of self-declared socialist Senator Bernie Sanders of Vermont, at 45 percent to 42 percent.
But the row over the former Secretary of State's use of an unsecured home server for e-mails, some of which the State Department deems too 'top secret' to disclose, just won't go away.
Clinton continues to defend herself against claims that she made highly sensitive government secrets vulnerable to attackers.
"I don't know which ones they have plucked out to fail to disclose and we have called for all of them to be released. This doesn't change anything about the fundamental facts. I never sent or received any e-mail marked classified. I take classified information very seriously," she said.
For the Republicans, outspoken billionaire frontrunner Donald Trump leads by five points in the Des Moines Register/Bloomberg Politics Iowa poll.
Trump and his closest rival ,Texas Senator Ted Cruz, stand at 28 percent and 23 percent respectively. Senator Marco Rubio of Florida was overwhelmingly the third choice, at 15 percent.
Trump suggests that Cruz may not be legally qualified to be president.because he was born in Canada.
Cruz, born to a US citizen mother and Cuban father in Calgary, Alberta, has brushed aside the attacks about his eligibility as pure politics.
Ted Cruz dogged by birther issue, days from Iowa caucuses https://t.co/KOADmnhLn2pic.twitter.com/glDHvw0SVw

— HuffPost Politics (@HuffPostPol) 30 Janvier 2016