Tributes pour in as BBC broadcasting legend Sir Terry Wogan dies aged 77
Comments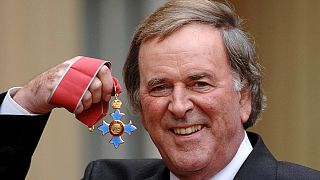 A president, a prime minister and a host of stars from the entertainment world have paid tribute to veteran BBC broadcaster Sir Terry Wogan who has died of cancer at the age of 77.
Truly one of the greatest we have ever seen
The Irish-born radio and TV personality delighted audiences with his wit and genial banter for decades, becoming one of the most recognisable faces and voices in Britain. He was granted a knighthood by Queen Elizabeth in 2005.
"Sir Terry Wogan died today after a short but brave battle with cancer. He passed away surrounded by his family," a statement on behalf of his family said.
Wogan began his broadcasting career with Irish state broadcaster RTE but joined the BBC in the 1960s.
He went on to become a national institution as a disc jockey, chat show host and presenter, known for his gently mocking wit and Irish brogue.
He hosted the BBC's coverage of the Eurovision Song Contest from 1980 to 2008.
British audiences, who tend not to take the contest too seriously, adored his irreverent approach to proceedings and graphic descriptions of some of the more outlandish acts. He was, however, genuinely irritated at 'political voting' by groups of countries and handed over the BBC's coverage to fellow Irishman Graham Norton, who has been among those paying tribute.
He made it seem effortless and for a young boy in Ireland he made it seem possible. RIP Sir Terry Wogan. I'll raise a glass during song 9.

— graham norton (@grahnort) 31 Janvier 2016
Another BBC broadcasting colleague, Jeremy Vine, described Sir Terry as: "Truly one of the greatest we have ever seen," who "treated his colleagues like friends".
My tribute to Sir Terry Wogan. @BBCBreaking@sharonlhanley@BBCNews@BBCRadio2pic.twitter.com/QLUlb7xJXM

— Jeremy Vine (@theJeremyVine) 31 Janvier 2016
As well as Eurovision and his celebrated breakfast shows on BBC Radio Two, Sir Terry had a glittering TV career, fronting many different programmes.
He helped raise millions of pounds for charity, hosting the BBC's annual 'Children In Need' appeal since it launched more than 30 years ago. Ill health forced him to miss last year's programme, for the first time.
Sir Terry has always been at the heart of the Charity, we will miss him so much. Our thoughts are with family. https://t.co/Nn4RrveVyz

— BBC Children in Need (@BBCCiN) 31 Janvier 2016
Other TV successes included the chat show 'Wogan' in which Sir Terry interviewed some of the world's biggest stars, between 1982 and 1992. During the same period, he was a popular quiz show host on 'Blankety Blank'.
In a sign of the impact he made, leaders of Ireland, the country of his birth, and Britain, where he has long been revered as a 'national treasure', paid their tributes to Sir Terry.
For Irish President Michael D. Higgins, Wogan was quite simply "one of the great figures of broadcasting".
President Higgins: "I have heard with sadness of the death of Terry Wogan, one of the great figures of broadcasting."

— President of Ireland (@PresidentIRL) 31 Janvier 2016
British Prime Minister David Cameron also had warm words for the legendary broadcaster.
1/2 My thoughts are with Terry Wogan's family. Britain has lost a huge talent - someone millions came to feel was their own special friend.

— David Cameron (@David_Cameron) 31 Janvier 2016
2/2 I grew up listening to him on the radio and watching him on tv. His charm and wit always made me smile.

— David Cameron (@David_Cameron) 31 Janvier 2016
Social media is full of tributes from famous and not-so-famous names.
Whether they knew him or not, many feel that in losing Sir Terry Wogan, they have lost a friend.
He leaves a wife Helen and three children. The couple also had a child who died in infancy.