Handball: Germany triumph in Europe and qualify for Rio
Comments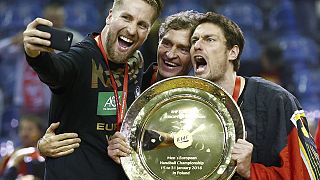 Germany have qualified for the 2016 Olympic men's handball event after an impressive 24-17 victory over favourites Spain in the final of the European Championship on Sunday.
W.U.N.D.E.R.B.A.R #handball#ehfeuro2016pic.twitter.com/kTlCnye9Mh

— HandNews (@HandNewsfr) January 31, 2016
It was a case of turning the tables for the German side since they were beaten by Spain in the preliminary group stage.
Despite being hampered by several missing players due to injury Germany turned the final in to a masterclass, racing to a 7-2 lead at the halfway point.
Goalkeeper Andreas Wolff played a crucial role keeping the goals out at the German end while at the other end right-back Kai Haefner was busy putting seven away for his team.
Germany will now join hosts Brazil, world champions France, as well as Argentina, Qatar and Egypt at the Rio games in August.