Anders Fannemal the latest victory in a spectacular ski season for Norway
Comments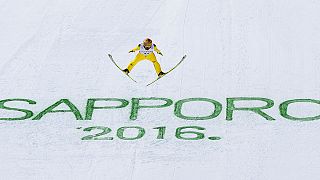 Twenty-four hours after the Slovenian double of the Prevc brothers it was the turn of the Norwegians at the World Cup in Sapporo, Japan.
Anders Fannemal gave an impressive demonstration of why he's the world record holder with a comfortable victory in the ski jumping that showed a marked improvement on his performance the day before.
The Norwegian registered jumps of 143.5m and 136.5m giving him a combined total of 265.9 points.
Speaking about his performance afterwards he simply said he was "really happy".
His total took him 5.6 clear of his compatriot Andre Forfang, who finished runner up on the podium for the second time this season.
Japan's Noriaki Kasai celebrated the birth of his daughter with a third-place finish, after jumps of 138.5m and 134m.
He described the day as "incredible" both for the skiing and becoming the father of a baby girl.
Overall World Cup leader Peter Prevc of Slovenia had to settle for sixth place with 248.6 points, missing out on a podium finish for only the second time this season.
March of the Norwegians
The Norwegians shone not just in the jumping but also in the cross-country and alpine. They have already won sixteen World Cup races this season, including eight of eleven events in January thanks to four veritable aces.
Rising star on the circuit and for a legion of Norwegian fans is Henrik Kristoffersen. Last year he became the youngest slalom skier to win a place on the podium at the Winter Olympics – and he's only just turned twenty so there should still be plenty of potential.
Then there's Aksel Lund Svindal who led the Norwegian sweep of the World Cup Super-G race in Val Gardena in Italy in December.
He's won the race four times and is a two-time overall World Cup Champion.
One of those sharing the podium with him in Italy was Kjetil Jansrud who won the race last year. He a talented all rounder in alpine disciplines and has been on the podium six times in the giant slalom as well as winning an Olympic silver medal
And the other Norwegian on the podium with Svindal in December was Aleksander Kilde, the first time he'd had such success in the World Cup.
On Saturday he bettered that with his first career win in the downhill at Sapporo.
Germany's rising star of the slopes
Because of bad weather conditions, the giant slalom planned for Sunday in Garmisch in Germany was cancelled like the women's slalom, which had to take place in Maribor where the race was won by Viktoria Rebensburg. Our expert Franck Piccard spoke to us about the German, who is now third in the women's general World Cup rankings behind Lindsey Vonn and Lara Gut:
"She's small but tenacious. Someone who's capable of achieving victory – and a victory in a giant slalom is never an easy victory.
"It's in two stages, there are two runs, and there's a lot of pressure between the runs. She's can take that pressure, and she can shine in other disciplines.
"She showed that in the slaloms, not so much in the speed events, but who knows? Today, with Tina Maze retired, and Anna Fenninger injured, it could be Viktoria's year".
Making history
In this week's "skiing past", we look back at those athletes of former years who made history. Today we travel back 80 years to talk about the first Olympic title awarded for alpine skiing. That was in 1936, at Garmisch in Germany.
On that occasion the gold went to the legendary Christl Crantz. Despite a fall in the downhill competition, which left her 19 seconds behind Norway's Laila Schou Nilson, the German came back spectacularly with two outstanding slalom performances that edged her ahead of of Nilsen and fellow German Kathe Grasegger.
Crantz won all titles at the World Championships in 1937 and 1939.
At the 1941 World Championship she won three additional titles and then retired.
To this day Crantz remains the most successful competitor at Alpine World Skiing Championships with twelve gold and three silver medals.
Join us next week for another edition of Gravity here on euronews.