Blasts close to Damascus' main Shi'ite shrine kill 60 - monitor
Comments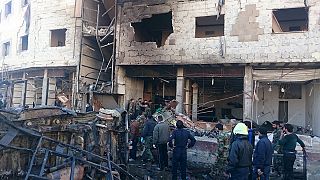 Dozens of people were killed and scores wounded in Damascus on Sunday (January 31) when three blasts rocked the Sayeda Zeinab district of the capital, home to Syria's holiest Shi'ite Shrine.
The Sunni militant group calling itself Islamic State claimed responsibility for the attack. Amaq, a news agency that supports the group, said two operations "hit the most important stronghold of Shi'ite militias in Damascus"
Syrian state news agency SANA, quoting an interior ministry source, said a group of militants had detonated a car bomb near a public transport garage. Two suicide bombers then blew themselves up nearby as people were being rescued.
More than 60 people were killed in the attack, according to the Syrian Observatory for Human Rights, a monitoring group. SANA reported that at least 45 people were killed and 110 wounded.
Dozens killed after double suicide bombing in Damascus https://t.co/Tf8xjiUZXV

— Guardian news (@guardiannews) January 31, 2016
The Sayeda Zeinab shrine holds the grave of one of the Prophet Muhammad's grand-daughters and is particularly revered by Shiites from Iran, Lebanon and other parts of the Muslim world.
The explosions occurred as representatives of Syria's government and its divided opposition began convening in Geneva for the first U.N.-mediated peace talks in two years.
The United Nations has said the aim would be six months of talks, first seeking a ceasefire and later working toward a political settlement to a war that has killed more than 250,000 people, driven more than 10 million from their homes and drawn in global powers.
Sources: AFP and Reuters