Petrol bombs thrown outside Greek minister's house
Comments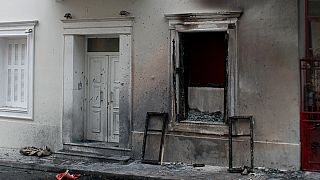 A group of unknown assailants threw makeshift petrol bombs outside the house of a Greek minister in central Athens early on Saturday, causing damage but no injuries, police officials said.
The attack took place outside the house of State Minister Alekos Flabouraris, a top adviser to Prime Minister Alexis Tsipras, in the downtown area of Exarchia, a police official said.
A car which belonged to Flabouraris' security team parked outside his house was burned and another was seriously damaged, the official said.
The ruling leftist Syriza party condemned the attack, saying that it will not undermine democracy in the country.
Attacks against politicians, banks and business people are not uncommon in Greece, which has a long history of political violence. Attacks have escalated since 2010, when it first adopted unpopular austerity measures in exchange for multi-billion-euro bailouts by the European Union and the IMF.
Athens agreed to further rounds of austerity under a third bailout agreement signed up last summer.
Source: Reuters