Brazil: Lula and wife called to testify
Comments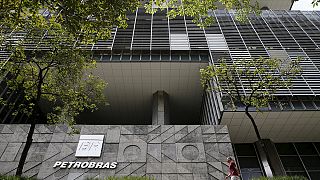 The former President of Brazil will testify next month in an investigation into money-laundering.
Prosecutors claim Luiz Inacio Lula da Silva and his wife are connected to a money-laundering investigation of beachfront apartments that may havec been used as bribes for members of the governing Workers' Party.
Lula e a família só estavam ajudando a OAS a decorar o triplex https://t.co/c932vYcJJypic.twitter.com/JZBdjwpeHg

— diogomainardi (@diogomainardi) January 29, 2016
Officials in Sao Paolo state think Lula's family might have owned one of the apartments in the Solaris complex in Guaruja.
What is the inquiry about?
Remodelling on Lula's apartment was paid for by contractor involved in corruption scandal http://t.co/Hq63LEfiAjpic.twitter.com/M55JSLNpGJ

— The Locals Of Brazil (@localsofbrazil) October 3, 2015
Investigators launched searches and arrests on Wednesday, in what is the latest phase of Brazil's largest-ever corruption probe.
Construction company OAS SA is suspected of using the apartments as bribes in a corruption scheme at state-run oil company, Petrobras.
The suspicion is that money was diverted from the Petrobras scheme and laundered through illegal property transactions.
Prosecutors allege that over $2 billion was paid in bribes by businessmen to obtain Petrobras contracts.
What does Lula say?
Lula's lawyer has denied the allegations.
The Sao-Paolo based Lula Institute says on its website that Silva repudiates any attempt to involve his name in illicit acts. He says his wife had an option to buy the apartment in the coastal city of Guaraja but it was never purchased.
What does it mean for Brazil?
Observers say Lula's legacy has been tarnished by the corruption scandal ensnaring key aides and associates in his Workers' Party.
It is said to be contributing to the political crisis that is threatening to unseat his hand-picked successor, President Dilma Rousseff.