US: jailed Oregon protest leader urges followers to abandon occupation of wildlife refuge
Comments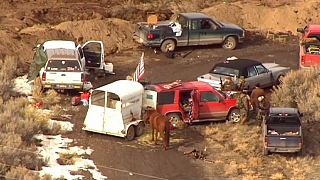 The jailed leader of an armed protest group that has been occupying a wildlife refuge in the US state of Oregon, has told the remaining protesters to stand down.
Ammon Bundy and several senior leaders of his group were arrested on Tuesday during a traffic stop. One militia member was shot dead.
Bundy's lawyer read out a statement from his client: "To those remaining at the refuge: I love you. Let us take this fight from here. Please stand down. Please stand down."
There are conflicting accounts about the death of group member, Robert Finnicum. One protester said Finnicum charged at FBI agents – while another said he was shot at without provocation.
Bundy's group, which says its defending the US Constitution, has been protesting against the federal government's control of areas of land in the west.
The group began its occupation of the Malheur National Wildlife Refuge on 6 January.
Following Tuesday's arrests and shooting, locals and supporters have been urging the remaining protesters to abandon the occupation.
B.J. Soper of the Pacific Patriot Network told reporters: "I asked them (protesters) to please go home. Let's finish this fight somewhere else."
"They're terrified. They don't know what to do. I would ask them to go home, I want them to go home to their families. I don't want any more deaths, anymore bloodshed. There is not reason to be a martyr in this. It's already done."