Zika: WHO sounds the global alarm over disease
Comments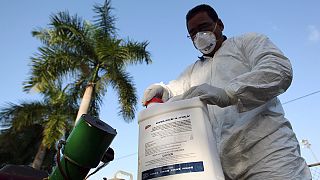 WHO

convenes emergency committee
Spread is of "alarming proportions"
Linked to birth defect
The World Health Organisation has sounded the global alarm about the Zika virus.
WHO chief Margaret Chan said the Zika virus was "spreading explosively" https://t.co/r5ON5sEQdOpic.twitter.com/GiHhBsNCPa

— The Telegraph (@Telegraph) January 28, 2016
The spread of the disease in South America coincides with a steep rise in cases of microcephaly, or babies born with abnormally-small heads.
Medical experts say the disease has explosive pandemic potential
Dr Chan: The International Health Regulations Emergency Committee on #ZikaVirus to meet on Mon., 1 Feb 2016 in Geneva #Zika

—

WHO

(@WHO) January 28, 2016
.WHO</a> convenes emergency meeting to address &#39;dramatic&#39; spread of <a href="https://twitter.com/hashtag/Zika?src=hash">#Zika</a> virus <a href="https://t.co/9BBSGJ4gZc">https://t.co/9BBSGJ4gZc</a> <a href="https://t.co/uqQpI6aklB">pic.twitter.com/uqQpI6aklB</a></p>&mdash; UN News Centre (UN_News_Centre) January 28, 2016
The organisation has set up an emergency committee to deal with the outbreak. It will meet on Monday in Geneva.
WHO Director General Margaret Chan says the spread of the mosquito-borne disease has gone from a mild threat to one of alarming proportions.
"A causal relationship between Zika virus infection, birth malformations and neurological symptoms has not yet been established, but is strongly suspected."
"This is a very important point."
The possible links, only recently suspected, have rapidly changed the risk profile of Zika from a mild threat to one of alarming proportions."
What is Zika?
Identified in Uganda in 1947, the first cases of this recent outbreak were reported in Brazil in 2015.
It is carried by mosquitoes and has since spread to more than 20 countries.
A case has also been identified in Denmark.
The disease is difficult to diagnose, as most of those infected have no symptoms.
WHO officials think up to 1.5 million people may have been infected.
What you need to know
Directora de la #OMS Margaret Chan, anunció que virus del Zika se podría extender por toda América. pic.twitter.com/YJ99rlHjwn

— EL

INFORMANTE

U.S.A (@ElinformanteUS) January 25, 2016
Zika is carried by mosquitoes.
Only 1 in 5 people infected will develop symptoms.
They include:
Mild fever
conjunctivitis
headache
joint pain
rash
No vaccine or drug treatment is available. Prevention is the best option and people are urged to follow the usual precautions against mosquito-borne diseases:
use repellent sprays
cover up arms and legs with clothing
keep doors and windows closed
Drain stagnant water
Zika is rarely fatal.
Wirus #Zika "wyjątkowo niepokojący" – przyznaje Margaret Chan z #WHO.
https://t.co/nTdN05Niwxpic.twitter.com/Nymyfrmvyg

— Piotr Kościelniak (@Pekuss) January 26, 2016
Health workers are concerned about prenatal health and a rise in cases of microcephaly.