Ukraine in the grip of deadly flu epidemic
Comments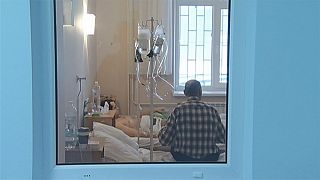 At least 83 Ukrainians have died
Millions affected across eastern Europe
Swine flu one of three strains involved
Flu epidemic sweeps Ukraine
Ukraine is in the grip of a flu epidemic.
An estimated 2.6 million people have been infected with the virus, which includes the swine flu strain, since October.
83 Ukrainians have died, 19 in the capital, Kiev.
Doctor Tetyana Yehorova says patients deteriorate rapidly. It can cause potentially-fatal pneumonia, she says, and it is a problem in Europe and the USA as well. The virus does not care about your nationality."
Schools and colleges closed, public gatherings banned
Kharkiv Schools Closed Indefinitely As Swine Flu Epidemic Spreads Through Ukraine & Russia https://t.co/sCpGPoVoCKpic.twitter.com/E7qFAkp09a

— James Miller (@Millermena) January 26, 2016
Maria Korenyuk, Euronews: "Es la primera vez que Ucrania conmemora el 8 de mayo como el… http://t.co/bWHEjXrjJfpic.twitter.com/o6hvtHSWPJ

— Latin Updates (@LatinUpdates) May 7, 2015
Euronews correspondent Maria Korenyuk
says schools and colleges in Ukraine have been closed to prevent the virus from spreading. Schools in Kyiv have been closed for two weeks now, she adds. They will open their doors again in February if the virus is contained by then.
Some public gatherings have also been banned.
Doctors warn the most vulnerable groups are children, the overweigh, people with diabetes, pregnant women, the elderly and those with chronic heart and lung disease.
Health workers are urging people to have the flu vaccination.
Symptoms of flu infection
Some of the main symptoms of flu include:
Temperature of 38C (100.4F) or more
Tiredness and weakness
Headache
General aches and pains
A dry, chesty cough
If you have these symptoms and are worried it may be flu, find out more details here (UK NHS website)