Spain arrests nine suspected PKK members after raids in several cities
Comments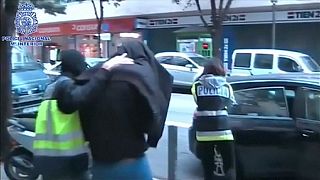 Spanish police have arrested nine people accused of belonging to the Kurdistan Workers Party (PKK) which is considered a terrorist group by Turkey, the United States and the European Union.The decades-long conflict has cost more than 40,000 lives.
The arrests came after raids in Madrid, Valencia and Bilbao.
Of those detained, eight were from Spain and one from Turkey.
"The police operation was against the structure of education, training and integration in military apparatus of the terrorist organisation PKK which operates in Turkey and Syria," said a spokesperson for Spain's interior ministry.
Including the arrests on Wednesday, Spain has detained 19 people accused of belonging to the PKK since 2013.