Man arrested with two handguns at hotel in Disneyland Paris
Comments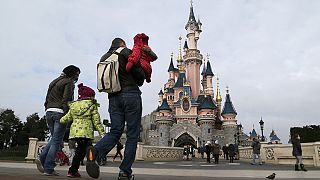 Man with two handguns arrested

AFP

says he had a copy of the Koran
France still under state of emergency
BREAKING: Man arrested at Disneyland Paris carrying two guns, ammo and THIS…
https://t.co/17Hs0Yt89Npic.twitter.com/DiSG8nPmiw

— Allen West (@AllenWest) January 28, 2016
A 28-year-old man has been arrested with two handguns at a hotel in Disneyland Paris.
Media reports say he was carrying two guns concealed in a bag or suitcase.
Man arrested with guns at Disneyland Paris hotel 'had copy of Koran' https://t.co/r6FCjbydVQpic.twitter.com/GLG4S3hKz5

—

ITV

News (@itvnews) January 28, 2016
Security teams stopped the man at an X-ray machine at the hotel entrance.
He was then arrested.
A woman was also arrested at the scene.
It is now known she was not with the man. She has been released.
La compagne de l'homme arrêté dans un hôtel de #Disneyland a également été interpellée https://t.co/f5ofpeRg27pic.twitter.com/VFLbMGaF9N

— France Info (@franceinfo) January 28, 2016
Man stopped with handguns in bag near #Disneyland Paris – Local police handling it so far, not anti-terrorism squad https://t.co/25upporZYV

— Angelique Chrisafis (@achrisafis) January 28, 2016
AFP are reporting the man was also carrying a copy of the Koran.
There are no reports of anyone being injured.
France remains under a state of emergency since militants killed 130 people in a series of bombings and shootings in Paris in November.