UN observers to monitor Colombia-FARC peace deal
Comments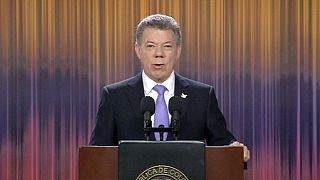 The United Nations Security Council has approved international observers to monitor a long-awaited peace agreement between Colombia and the country's militants.
That peace deal between Colombia's government and The Revolutionary Armed Forces of Colombia, or FARC, is within reach.
In a televised address on Monday night (January 25) Colombian president Juan Manuel Santos praised the UN for backing a mission to support a FARC peace deal.
"The decision taken by the Security Council means that we are no longer alone, we have the hand of the United Nations, of the whole world to the end of this war. It's the best guarantee this will happen," said Santos.
After three years of negotiations the two sides are working towards reaching a final, comprehensive peace agreement by a March 23 deadline.
The UN mission would then monitor the end of hostilities and the laying down of arms.
Fifty years of fighting has cost the lives of 220,000 people and displaced millions.