UN invitations to Syrian peace talks spark controversy
Comments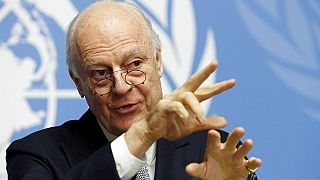 The United Nations Special Envoy for Syria, Staffan de Mistura, has invited the Syrian government and opposition to peace talks due to start in Geneva on Friday.
The news came in a UN statement on Tuesday but it didn't specify exactly which groups have been invited, and the matter is already the subject of disagreement.
Russian Foreign Minister Sergei Lavrov addressed a press conference in Moscow:
"Some members of the international Syria Support Group, as I understand, insist that only those opposition groups that met last year in Riyadh are worthy of representing the Syrian opposition, and all the others should be left out. This is an obvious violation of UN resolution number 2254."
But the Turkish government is vehemently opposed to the Syrian Kurdish group the PYD taking part, as it sees them as an extension of the Turkish separatist PKK, who have been fighting a militant campaign in Turkey for an independent Kurdish state.
"It is unacceptable to let a terrorist organisation join opposition parties and attend negotiation talks," Turkish Prime Minister Ahmet Davutoglu told a boisterous meeting in parliament. "They can't sit together with honourable opposition groups fighting the Syrian regime. If somebody wants to see the PYD at the table, they should be on the same side as the Syrian regime."
Turkey is also against the participation of the YPG mililtia, who are affiliated to the PYD.
But the YPG is an important partner to the US in the fight against ISIL.
There's also some doubt as to whether the Syrian opposition will attend the talks at all. It has accused the United States of adopting unacceptable Iranian and Russian ideas for solving the conflict.
.