Twenty-four detained in latest Spanish corruption raid
Comments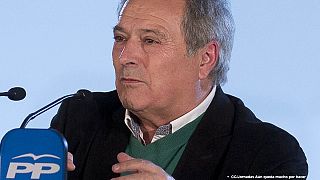 Police in Spain arrested 24 people in an anti-corruption operation in the Valencia region on Tuesday.
Many of those detained belong, or used to belong to the country's ruling People's Party, the PP.
The offences relate to alleged payments of illegal commissions in exchange for public works contracts.
A spokeswoman said the police are investigating cases of influence peddling, bribery and money laundering.
"We'll take action against all those affected," said PP spokesman Rafael Hernando. "I must forcefully insist that we have a commitment to the citizens in the fight against corruption and on that we are inflexible."
But that did little to reassure the left-wing political newcomers Podemos.
"As time goes by, as if someone needed yet another example, the regeneration of democracy and the idea of the People's Party in government again are two opposing forces," said Iñigo Errejón, the party's spokesman in Congress.
Premises raided included the La Murta football stadium of Xativa Olympic. The club's former president Alfonso Rus, is one of the people detained.
This is the latest example in a string of corruption scandals involving public contracts awarded during Spain's boom construction years leading up to the financial crash in 2008.