Sweden boosts police resources after refugee centre stabbing
Comments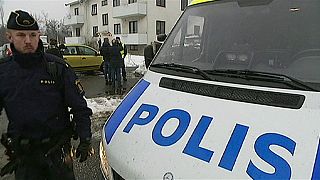 The prime minister of Sweden is promising more resources for police after a female worker at a refugee centre was stabbed to death.
The knife attack, at this centre for unaccompanied minors, sparked concerns that authorities were being overwhelmed by the number of people seeking asylum protection in Sweden.
A 15-year-old boy has been arrested on suspicion of murder.
"The woman that worked there was a fantastic employee and she worked in the extremely important welfare sector, and at your workplace you should feel safe and secure and not at risk," Stefan Lofven, Swedish Prime Minister, told reporters. "But this did not happen on this occasion, a person has died and now we must think about her family, friends and her work colleagues, and this is really a tragedy."
Sweden reversed its open doors-policy on immigration late last year. It has since introduced new border checks in a bid to curb the flow of refugees.
Sweden has taken in more asylum seekers per head than any other European country and says it can no longer cope.