Italian football clubs under investigation for alleged tax evasion
Comments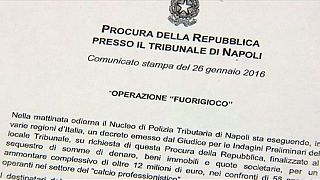 Italian police seized assets on Tuesday from football players, agents and club executives as part of an investigation into alleged tax evasion in the country's top two divisions.
Cash, stocks and property worth more than 12 million euros were seized from some 60 people.
Although the prosecutor's statement did not name any clubs or individuals involved Judicial sources said those named in the investigation included former Argentina international and Modena coach Hernan Crespo, AC Milan chief executive Adriano Galliani, Lazio club president Claudio Lotito and Napoli chairman Aurelio De Laurentiis.
According to the Prosecutor, the seizures are part of a broader investigation that uncovered a "deep-rooted system intended to evade taxes, put in place by 35 football clubs in Serie A and Serie B along with more than 100 other individuals, including players and their agents."