Clashes and arrests in Paris as taxi drivers strike over Uber
Comments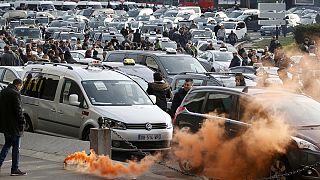 French police clashed with protesting taxi drivers in Paris on Tuesday, amid a day of major strike action across France.
Riot police officers used teargas and arrested 20 people during the morning clashes near the ring road that surrounds the French capital.
Later in the day, the demonstrators gathered near the ring road at Porte Maillot.
Activist Ibrahima Sylla pled for calm, but stressed that the protest itself was legitimate:
"We've applied for authorisation to strike at Porte Maillot, Roissy and Orly airport, so we have the right to be here and that's why I ask people to remain calm."
The taxi drivers have been demonstrating against app-based firms, such as Uber, which they say are unfairly undercutting their business.
Licensed taxi drivers held protests in several other cities across France.
Traffic was disrupted by demonstrations in Marseille, Lille and Toulouse.
Manifestation des taxis à #Marseille contre Uber</a> <a href="https://t.co/0M5AmjlQNj">pic.twitter.com/0M5AmjlQNj</a></p>&mdash; Caroline Ayoub (carolineayoub) January 26, 2016