After bungling in Iraq, Libya and Syria, the West needs Iran: comment
Comments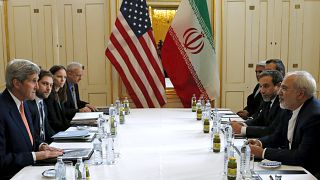 Mehrdad Khonsari is a former Iranian diplomat. The views expressed are his own and Euronews does not endorse political opinions expressed here or elsewhere
The recognition of Iran's critical importance ... has been a source of major anxiety for certain regional states, but this needs to change if Daesh is to be defeated.
The November 2015 Paris attacks by radical Islamists associated with the so-called Islamic State, took place in the aftermath of more than a decade of conflict and confrontation since 9/11.
The post-9/11 invasion of Afghanistan and Iraq with the aim of promoting democratic values in the Middle East has proven to be disastrous. The tragedy in Paris may have finally brought an end to all such efforts.
After spending almost two trillion dollars, along with the lives of many thousands of people, which has now culminated in the largest flow of migration since World War II, it is now clear that the conceptual framework behind such actions was highly flawed.
Subsequent efforts by the Obama presidency to distance the United States and some of its allies from their original commitments to nation building in
Iraq and Afghanistan by withdrawing the bulk of American and allied troops from those countries, has also backfired.
All of the above actions have helped destroy the earlier equilibrium in places like Iraq, Syria and Libya, which has led to unprecedented levels of regional tension and insecurity precipitated by a revival of Shia-Sunni tensions, exacerbated by false promises of the Arab Spring.
As a result, the stability of the Middle East and North Africa — and the balance within their various diverse societies – has been upset by the unrealistic expectations of imposing Western values in societies where the majority of the populations did not want to part with their own values and traditions.
The campaign to remove dictators like Saddam Hussein and Muammar Qaddafi from countries unfamiliar with legal institutions and the rule of law has led to their replacement not with quasi-western democratic orders but with the advent of even more vicious groups like the Islamic State or 'Daesh' who have succeeded in destabilizing and radicalizing the entire region.
Following on from these efforts was the campaign of the past five years to remove Syria's Bashar Assad, which involved the United States and a number of its regional allies that included Qatar, Saudi Arabia and Turkey.
Qatar and Saudi Arabia, under the guise of preventing a Shia revival in the region, are determined to replace Assad's secular authoritarian regime with what will be another authoritarian regime that will be sectarian and Islamist, not much different than Daesh.
The tragic events in Paris and California finally brought home the message that the West is no longer immune from the kind of insecurity, which it has inadvertently inflicted on millions of people across the Middle East and North Africa. So far, the two most obvious 'blowback' effects of the West's actions have been:
first, to force an already strained European Union to find ways of accommodating unprecedented massive numbers of unwanted migrants.
second, having to cope with trained terrorists disguised as 'migrants' that exacerbate the existing dangers posed by long established 'Islamic sleeper cells' recruited from the ranks of impoverished Sunni Muslim immigrants across Europe.
Contrary to John Kerry's joint statement with the Saudi Foreign Minister in Riyadh pointing to the threats posed by some elements linked to Iran in the Middle East, today, it is clear that Sunni extremists personified by the likes of Daesh, Al Qaeda and the Taliban, supported by wealthy proponents of Wahhabism, pose the greatest threat to international security.
The biggest challenge for the West is to defeat and destroy Sunni extremism.
The priority for 2016 must be to remove Daesh from all their strategic strongholds in Iraq, Libya and Syria. Eradicating the Sunni extremist ideology that has mesmerized and radicalized so many young people in the region and beyond is a long-term process that will need to be diligently pursued over time with dedicated planning and commitment.
What is required for the attainment of both objectives is a new outlook that seeks to enlist the support of those who are most capable of making a decisive contribution. The most important 'anti-Daesh' player in the region whose cooperation has not been actively sought as part of a broad international coalition aimed at defeating such extremists is Iran.
Having resolved its nuclear dispute with the international community, it is now possible for the West to usher in a new era of collaboration with Iran, involving not just economic cooperation but an equally important parallel effort aimed at neutralizing the threat posed by 'radical Sunni fundamentalism' to Western interests – and to the region.
The recognition of Iran's critical importance in this regard by the West has been a source of major anxiety for certain regional states, but this needs to change if Daesh is to be defeated.
A critical priority for all responsible parties should be the defeat of Daesh. In order to achieve this goal, all further sectarian provocations that can easily escalate to an outbreak of a conflict between Sunnis and Shias needs to stop. This is a goal that can be achieved with Iranian support.
Dr. Mehrdad Khonsari is a former Iranian diplomat. He has also worked as a Visiting Research Fellow at the International Institute for Strategic Studies and a Senior Research Consultant at the Centre for Arab and Iranian Studies in London.