Iran: why President Rouhani is in Rome and Paris
Comments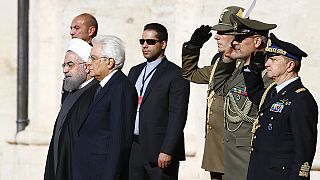 Iran is talking business
First trip to West since nuclear deal implemented
Rouhani will meet Italian President, Prime Minister and the Pope.
Rome
Iran – Italy: President Rouhani arrives in Rome
https://t.co/YtT33oJ1O1pic.twitter.com/uJyyPW3Dut

—

MESP

(@mestrate) January 25, 2016
All the pomp and ceremony of the Italian state has been rolled out to welcome the Iranian President to Rome.
This is the first stop for Hassan Rouhani on a five-day European trip which, it is hoped, will end in the signing of several major business deals.
#Italy to sign energy and steel deals with #Iran worth up to 17 billion euros during Rouhani's visit to Rome – Reuters</a> <a href="https://twitter.com/crispiandjb">crispiandjb

— Luke Baker (@LukeReuters) January 25, 2016
Rouhani is expected to sign trade agreements with Italian firms worth a potential 16.6 billion euros.
He is also scheduled to have a meeting with the Pope. The situation of Christians in the Middle East is likely to be discussed, as well as human rights.
The Vatican also strongly opposes executions, which have increased in frequency since Rouhani took office.
Iran's Rouhani starts first post-sanctions European trip. To meet Pope, Hollande, Renzi & sign biz deals https://t.co/bLF98KIpSx via WSJ</a></p>&mdash; Deborah Ball (balldeborah) January 25, 2016
Iran Oil Minister Zanganeh sits next 2 FM Javad Zarif & Prez Rouhani during meeting w/senior Italian officials, Rome pic.twitter.com/y0zMZeT085

— Hanif Zarrabi-K. (@hanifzk) January 25, 2016
He will also have meetings with Italian President Sergio Mattarella and Prime Minister Matteo Renzi.
Rome has traditionally had close economic ties with Tehran.
Sanctions lifted, Iran's Rouhani heads to Europe to drum up business: Italy's export credit agency, Sace, has … https://t.co/XA05EhwsRQ

— Business News (@enBusiness_news) January 24, 2016
The Italian credit agency Sace has predicted Italian exports to Iran might rise by as much as three billion euros between 2015 and 2018.
Exports last year topped 1.56 billion euros.
Paris
The 120-strong delegation of politicians and businesspeople will travel on to Paris after Rome.
#Rouhani in #Italy today & #France mid-week (expected to produce Airbus deal for 114 new aircraft) https://t.co/1QMhTxVdlX

— Ellie Geranmayeh (@EllieGeranmayeh) January 25, 2016
Rouhani is understood to want to finalise a deal to buy 114 aircraft from European planemaker Airbus.
Companies like oil giant Total and car manufacturer Peugeot are also said to be interested.
Who is Hassan Rouhani?
Born in 1948
Considered a political pragmatist
Elected 2013 on a platform to reduce Iran's isolation
Holds an MPhil in Law from Glasgow Caledonian University
What they are saying
"This is a very important visit. It is time to turn the page between our countries in different areas." – Iranian official.
"Trust needs to be built. It is like love. It is only the proof of love that counts." – senior French diplomat.
"A definitive step toward a more secure and fraternal world" – Pope Francis
"European countries are rushing head-first to get into Tehran, but they are bargaining with human rights for short-term commercial and economic interests." – Tahar Boumedra, former UN Human Rights official.