Iran continues its journey back from international isolation as President Rouhani lands in Rome
Comments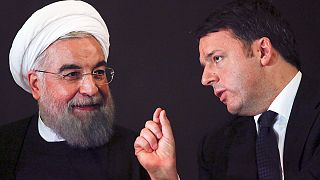 The Iranian president Hassan Rouhani landed in Rome on Monday for talks with the Italian Prime Minister Matteo Renzi at the start of his first official visit to Europe since the lifting of international sanctions.
Heading up a 120-strong delegation of Iranian business leaders it was obvious that trade was his main objective but the two leaders also discussed security issues.
"If we reached a deal on Iran's nuclear programme we can reach a agreement on Syria," Renzi told reporters. "We must reach an agreement on Syria. It's therefore essential that we each engage in a cooperative effort."
"We want a safe Afghanistan," added Rouhani. "We want Iraq and Syria to be safe. We want Lebanon to be stable, Libya to be safe and on all of these issues we can collaborate, engage in dialogue together."
Officials in Rome said Italian firms were poised to sign deals worth up to 17 billion euros during the visit.
They include contracts in the energy, infrastructure and steel sectors, all aimed at rebuilding Iran after years of isolation.
Rouhani is also due to meet the Pope while in Italy and is due to fly on to France on Wednesday.