China hails a "new season" in relations with Iran
Comments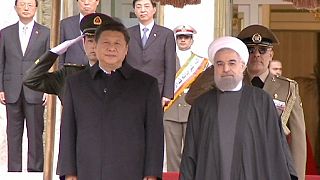 Chinese president Xi Jinping has become the first leader to visit Iran since international sanctions were lifted a week ago under a deal limiting Tehran's nuclear programme.
The two countries have agreed to expand economic and political ties.
The Chinese president called the visit the start of a "new season" in bilateral relations, and his Iranian counterpart, Hassan Rouhani, outlined the scope of the partnership:
"Today, we discussed strategic relations between the two countries, regulating and signing a comprehensive 25-year document and also upgrading bilateral ties in the coming ten years. We decided to increase mutual trade up to 600 billion dollars."
The two countries signed 17 accords on Saturday including an agreement to revive the the ancient Silk Road trade route and cooperate on a policy of peaceful nuclear energy.
The Chinese president began a round of diplomatic visits to the region on January 19 that started off in Saudi Arabia and Egypt.
Xi Jinping is the first Chinese president to visit Iran in 14 years.