Canada school shooting: four people dead, male suspect in custody
Comments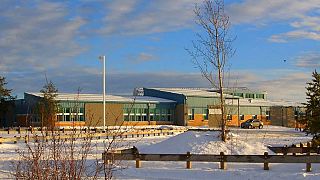 Several dead
Two in critical condition
No motive, yet
Canada's worst school shooting since 1992
Male suspect in custody
Investigations launched in two locations
Acting mayor's daughter and suspect's two brothers among dead
Lockdown lifted at La Roche schools
---
Several people are dead and a male suspect has been taken into custody following a shooting at a school in a remote part of Canada.
---
Canadian police confirm four people have died in a school shooting in the remote community of La Loche, in the province of Saskatchewan.
They say a number people were injured in the incident at La Loche Community School, but have not given a precise figure.
The police reports contradict an earlier statement given by Canada's Prime Minister, Justin Trudeau, in which he said five people had died.
At least two people are in a critical condition, the premier said from Switzerland, where he is attending the Davos World Economic Forum.
"Obviously, this is every parent's worst nightmare. When I spoke with community leaders they obviously expressed that the community is reeling and all of us across the country's hearts are going out to the families and to the whole community," said Trudeau.
No motive has been given for the shooting.
The statements followed a report from a hospital nurse, who told CBS news a number of people were being treated for gunshot wounds.
Worst school shooting in decades
Canada has stricter gun regulations than the US and mass shootings are relatively rare.
The incident at La Loche is the country's worst school shooting since 1992, when four people were killed at Concordia University in Montreal.
Canada's worst school shooting took place just a few years prior to that. In 1989, 14 college students were killed at the Ecole Polytechnique in Montreal.
Male suspect in custody
Trudeau said the alleged shooter is in custody and the situation is now under control.
Canada's Royal Canadian Mounted Police (RCMP) say a gun was seized from the suspect — a male — as he was taken away for detention.
Investigations are now ongoing at two locations in La Loche, the RCMP added.
Kevin Janvier, acting Mayor of La Roche said the incident may have begun at the suspect's home:
"I'm not 100 percent sure what's actually happened, but it started at home and ended at the school."
The victims
The acting mayor told the Associated Press that his daughter Marie, a 23-year-old teacher, was shot to death.
Janvier added that the suspected gunman is believed to have shot dead his two brothers at home before making his way to the school.
Lockdown lifted
An initial lockdown on La Loche schools was later lifted and the children moved to a safe location. Police say there is no current threat to public safety.
The school district's Facebook page said an emergency in the building where grades 7 – 12 are taught put both the building and the elementary school on lockdown.
La Loche Community School teaches children from pre-kindergarten to grade 12 (usually aged 17-18). Two buildings on the school site house some 900 students.
La Roche, Saskatchewan school in lockdown after shooting https://t.co/khWu5u5tdLpic.twitter.com/raK3ctpMgA

— HuffPost Alberta (@HuffPostAlberta) January 22, 2016
'Horrific events'
Saskatchewan Premier Brad Wall issued the following statement:
"Words cannot express my shock and sorrow at the horrific events today in La Loche. My thoughts and prayers are with all the victims, their families and friends and all the people of the community."
UPDATE: La Loche, Sask., shooting death toll left 4 dead, RCMP say https://t.co/FxKsGVltBjpic.twitter.com/O7v3jsXo60

— Matthew Kruchak (@MattKruchakCBC) January 23, 2016