Thousands attend rally for pro-Kremlin Chechen leader Kadyrov
Comments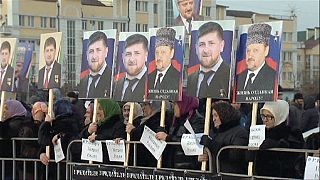 A genuine show of support or a sham?
Thousands of people have rallied in Chechnya's capital, Grozny, to back the region's pro-Kremlin leader Ramzan Kadyrov and his strident campaign against opposition activists.
But leaked documents suggested that attendance was compulsory for public sector workers.
Kadyrov, 39, a former Chechen rebel turned Kremlin ally, has made a series of strongly-worded verbal tirades against the liberal opposition in recent weeks, calling them "enemies of the people," a Stalin-era phrase some of Vladimir Putin's rivals see as an implicit death threat.
Many in the crowd carried portraits of Kadyrov and Putin as well as Russian and Chechen flags.
One giant poster declared that Kadyrov was "a servant of the Almighty and of the people and Putin's foot soldier".
State media said the rally had attracted over one million people. A Reuters reporter said thousands were present. The official population of Chechnya is 1.37 million.