Egypt: at least nine dead in bomb blast on road to Giza pyramids
Comments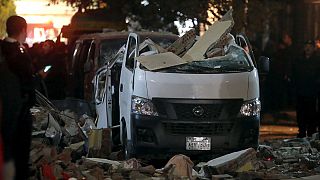 A bomb blast in a residential building in Giza, Egypt, has killed at least nine people, including six police officers.
The bomb site lies on the road to the Giza pyramids.
Security sources said Egyptian forces were conducting a raid on a militant hideout. They discovered the building was booby trapped and the device exploded during an attempt to defuse it.
At least thirteen people were wounded.
Local man Mahmoud Abu Bakr described the immediate aftermath:
"We heard the sound of an explosion and when we ran outside all we could see for around half an hour was a dense cloud of dust and fumes. After about 30 to 45 minutes, the dust cleared and we could see the damage. But none of us knows what happened."
Egypt's Interior Ministry says the bomb was planted by militants in the outlawed Muslim Brotherhood.