Eastern USA braces for "historic" snowstorm
Comments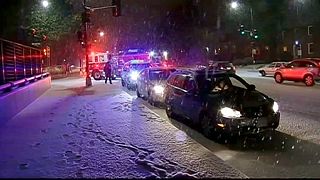 The eastern seaboard of the United States is bracing itself for a great white storm forecasters are saying is of epic proportions.
A metre of snow is being predicted and five eastern states have already declared a state of emergency ahead of the blizzard, Tennessee, North Carolina, Virginia, Maryland, and Pennsylvania, along with Washington DC.
"We're expecting a historic snowfall in the district, I think there's probably one other on record that we've had that has had a snowfall in it, one event…We've been told to prepare for winds of up to forty miles per hour," said the capital's mayor, Muriel Bowser.
Shops have been doing a roaring trade in plywood panels and snow shovels as people shutter houses and businesses on the coast, and prepare for the worst.
Transport chaos is predicted, and people are being told to make only essential journeys. As much as a third of the country could be affected by the white-out even if the coastal areas will likely get the lion's share of the snow.