19 dead as al-Shabaab attacks tourist spot near Mogadishu
Comments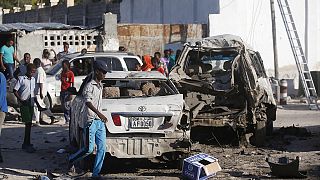 Somali police say at least 19 people have been killed when al-Shabaab Islamic militants shot up a beach resort near the capital, Mogadishu.
Two bombs were also set off. The victims include women and children. Four attackers were killed and another was captured after a gun battle with government troops that lasted several hours.
"I was intending to go out, but suddenly we heard a heavy explosion, followed by gunfire. When I looked back, I saw a militant fighter shooting indiscriminately at everybody. Then I locked myself inside a room until we were evacuated peacefully by the security forces," said survivor Abdulkadir.
The al-Qaeda-affiliated al-Shabaab, despite being evicted from the capital and many of its major strongholds, remains a potent fighting force. On January 15 it was able to overrun a Kenyan army base in the south of Somalia.
It was retaken on Tuesday, but not before it was looted and totally destroyed.