'Despot' Vladimir Putin 'ordered' Litvinenko murder, inquiry hears
Comments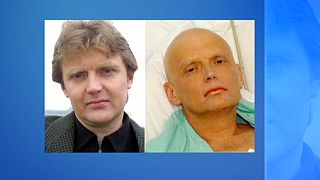 The British inquiry into the killing of former Russian spy Alexander Litvinenko has heard claims that Vladimir Putin personally ordered his murder.
Describing the Russian president as a "tinpot despot", the lawyer for the agent's family said there were several reasons for Moscow's involvement in his death by poisoning in London in 2006.
"We say that it is certain that the Russian state ordered this murder and we say that you can be sure that that can not have happened without President Putin's approval," Ben Emmerson said, going further than had British police during previous evidence.
"Putin stands accused of #Litvinenko's murder, not on the basis of inference… but on solid and direct evidence" inquiry is told.

— Deborah Haynes (@haynesdeborah) 31 Juillet 2015
In his closing statement the lawyer, said Litvinenko had produced reports for the West linking Putin and his allies to criminal gangs.
Litvinenko's widow Marina, who pressured Britain into holding the inquiry that will report its findings before Christmas, said the truth had finally been uncovered.
"He fought to expose corruption in FSB and highest echelons of power in Russia. His actions were perceived as a traitor and he paid the ultimate price for them," she said afterwards.
Once an officer with the Federal Security Service (FSB), which replaced the KGB, Litvinenko fled to Britain claiming persecution and was granted asylum.
He became a fierce critic of the Kremlin; the inquiry revealed he was paid by MI6.
He died three weeks after drinking tea thought to have been laced with radioactive polonium during a meeting with two Russian suspects, Andrei Lugovoi and Dmitry Kovtun, in a London hotel.
Moscow has called the inquiry politicised and selective, as reported by the news agency TASS.
The British side does not intend to swerve from its course towards politicizing death of Alexander Litvinenko http://t.co/16c22FjAw1

—

MFA

Russia (@mfa_russia) 31 Juillet 2015
TASS quoted Russian foreign ministry spokesman Alexander Bikantov as saying the "selective nature" of the inquiry was "another proof that the British side does not intend to swerve from its course towards politicizing the entire process and arbitrarily interpreting the facts of the 'Litvinenko case'".
The UK inquiry, which opened in January, has now finished hearing evidence. Chairman Sir Robert Owen is expected to present his report to the British government by the end of the year.