Wife of murdered ex-KGB spy Litvinenko appears at inquiry
Comments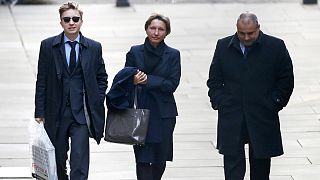 The wife of the former KGB spy Alexander Litvinenko has arrived at the official inquiry into his murder in London.
The known-critic of the Kremlin and the Russian President was killed in 2006 after drinking tea poisoned with radioactive polonium.
Marina Litvinenko is due to take the stand at the Royal Courts of Justice.
Detectives accuse two Russians of having murdered Litvinenko and the inquiry is looking into his previous claim that President Putin had personally ordered his killing.
The poisoning happened in November 2006 at the Millennium Hotel in Grosvenor Square in London, where Litvinenko had arranged to meet two Russian men.
The case has strained relations between the UK and Russia, which refused to hand over the two suspects.
The lawyer for Litvinenko's family has told the inquiry the ex-spy was killed for attempting to expose links between the Kremlin and organised crime.
Moscow and the two Russian suspects, Andrei Lugovoi and Dmitri Kovtun, have denied the claims.
FSB asked Litvinenko to kill oligarch Berezovsky, wife tells inquiry http://t.co/SElyb7tLvY (Pic: Ben Gurr) pic.twitter.com/lqMN4JdO6M

— The Times of London (@thetimes) February 2, 2015
Alexander Litvinenko inquiry: A slow death from assassin's dream drug http://t.co/aidHTLF0zApic.twitter.com/sc5m567wlX

— The Independent (@Independent) January 28, 2015
Post-mortem of ex-KGB spy Litvinenko was world's most dangerous ever, UK inquiry hears: http://t.co/3T0SaeQ55rpic.twitter.com/VqTy6zCnOm

— Reuters Top News (@Reuters) January 28, 2015
Litvinenko inquiry: Former spy was murdered 'at the third attempt' http://t.co/xbT3Rk44Wq

— Telegraph News (@TelegraphNews) January 26, 2015
Widow Says Litvinenko Grew Disillusioned With #Russiahttp://t.co/vNppyHVsPK#news

— The Moscow Times (@MoscowTimes) February 2, 2015