Austrian 'cry for help' as it considers border closure
Comments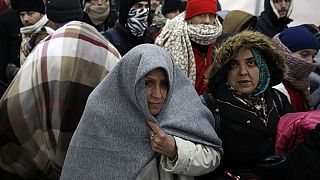 Austria says it's 'testing a new system of border management', reducing the number of crossing points to one in a bid to stem the flow of migrants. Troops have been deployed at Spielfeld on the frontier with Slovenia where they've been charged with helping police process 6,000 migrants over 12 hours.
With Austria leaving a complete border closure as an option, German Chancellor Angela Merkel has insisted a EU wide solution is preferable to unilateral moves. Austria has also said it is to cap the number of refugees it wants to accept.
Austrian plans
The government plan restricts the number of asylum claims to 1.5 percent of Austria's population.
The total will be spread over the next four years.
Claims will be capped at 37,500 this year, falling annually to 25,000 in 2019.
German Vice Chancellor Sigmar Gabriel speaking in Davos
warned against Austria's so-called emergency "Plan B":
"To aim for the closure of Europe's internal borders would be an economic catastrophe. We are here at the World Economic Forum and it would be easy to figure out how many unemployed this would produce with the return of closed borders. But Austria has sent a cry for help to Europe and it is more than justified."
Last year more than one million migrants arrived by sea crossing into Europe, many via Greek islands. Austria's possible border closure could trigger more within the EU Athens which is already under pressure is alarmed at having cope with refugees with no where to go. While others fear such action threatens the future of the European Union experiment.